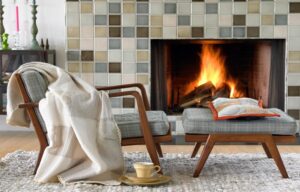 Installing a fireplace in your kitchen: advantages and tips
A fireplace in your kitchen will add character to your interior. More than an element of decoration, the fireplace occupies a place of choice, combining conviviality and functionality . Here are some installation tips.
Benefits of a fireplace in your kitchen
When we think of indoor fireplaces, we often refer to the traditional living room fireplace, used to heat the living room where the family meets. You can give life and conviviality to your kitchen by equipping it with a fireplace or by operating the existing one. You will diffuse an intimate warmth in this room, which will make it the true heart of the house.
A fireplace, an economical heating method
If you have chosen a wood-burning fireplace , you will fuel it with logs, pellets or pellets, or possibly wood chips . Families appreciate wood for its many advantages: it is an ecological, local and renewable energy. Remember to dedicate a storage space for the wood and accessories for your fireplace.
A fireplace for a warm and functional kitchen
The fireplace, an element of the past and of family traditions, is becoming fashionable again. Manufacturers and brands compete in creativity to design various models: modern, avant-garde, design, contemporary, rustic or traditional. Many installation and device solutions are available. You can install a fireplace in a corner, on a wall or in the central island depending on the size and configuration of your room.
A fireplace for cooking
In the past, fireplaces were essential for cooking food. A fireplace in the kitchen will allow you to revive the cuisine of yesteryear with simple recipes: braised meats, grilled vegetables, potatoes wrapped in aluminum foil and cooked over charcoal .
Install a fireplace in your kitchen
Today, wood heating is making a comeback and more and more families are using this energy for their heating systems. You will therefore find many models to equip your kitchen with a new fireplace or refit the existing fireplace. Here are some design ideas based on your home and your use.
An open fireplace
Your kitchen is already equipped with a traditional fireplace, you regularly heat the room in order to take advantage of the gentle heat of the flames using wood logs . An open fireplace provides limited efficiency (generally less than 30%) and constitutes an auxiliary heater.
An insert fireplace
It is possible to install an insert placed in the hearth of your open fireplace. This will give you more heat and this will increase the yield. The installation of an insert in an existing fireplace requires casing work, without major modifications to the frame.
A closed wood-burning fireplace
You can directly install a closed hearth when creating a fireplace in your kitchen. Very efficient in terms of energy, there are several models of fireplaces or stoves using pellet or pellet wood.
Other models and types of fireplaces to equip your kitchen
Depending on your preferences or the equipment in your home, you can have a fireplace installed using other energies: electric fireplace , gas fireplace or ethanol fireplace .
Installation standards
If you are using an existing chimney, remember to have the tightness of the ventilation and smoke evacuation duct checked . Contact a specialized company to have the routing carried out (have an existing chimney flue in poor condition re-coated). If you equip your kitchen with a new fireplace, your room will have to be connected to an existing ventilation duct or will have to be installed. Ventilation ducts are subject to specific standards that must be respected for your safety.
Maintenance tips
Call on a specialist for the maintenance of your chimney. In order to evacuate the combustion gases in good conditions, the interior and exterior flues must be regularly maintained. It is recommended to have your kitchen chimney swept once or twice a year depending on your frequency of use, in order to ensure its operation and limit the risk of accidents, such as fires or carbon monoxide poisoning.
Installation by a specialist
To remodel a kitchen with an existing fireplace or to install one, ask a professional for advice . He will suggest several equipment solutions and which location to choose depending on the characteristics of your kitchen, for example:
the layout of your kitchen (near a water connection, extractor hood, electrical appliances nearby).
A fireplace in your kitchen will bring you warmth and functionality. To enjoy the spectacle of the flames , respect the safety standards and call on a specialist for the installation. Beautiful evenings by the fire in perspective!