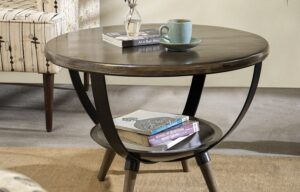 Choosing the right coffee table
In your living room, the coffee table is an essential, as are the sofa or the armchair with which it often goes hand in hand. The coffee table helps set the mood and atmosphere of your living room. Several shapes, sizes, styles and models are available at Bobochic. An element that sits supreme in the center of your living room, it is a must and a major decorative asset.
The models and designs of coffee tables are constantly developing to make them decorative elements without neglecting their functional aspect. If you want to change the decoration, Bobochic advises you on choosing the right coffee table.
If you have a sofa in your living room, the need for a coffee table will impose itself. Present in almost all living rooms, it is an essential multifunctional support. Whether for your aperitifs, to share convivial moments with family, friends or roommates, the coffee table is essential.
On Bobochicparis.com, many models of coffee tables are available. It must match your style of living room and its ambient decoration. Coffee table types range from simple to multi-function. Bobochic does not lack innovation to combine business with pleasure. These functionalities are to be chosen according to the use you wish to make of them. It can be a simple small side table on which you can put your newspapers, magazines, remote control, smartphone or group other functions. Some tables now have drawers and compartments to provide additional storage space. They are therefore more functional and represent an ideal alternative for small living rooms where storage space is limited.
The mix between vintage and modern is increasingly coming into homes through minimalist and designer furniture. Coffee tables are no exception. One of the most fashionable design coffee table models in recent years is the ultra-low and slender model . It enhances both the smallest spaces and the most spacious living rooms. Thanks to its low top, this coffee table will give the impression of being in a larger living room without taking up all the space. If you have a large dining room, you can even have several coffee tables of this type. They will come to compose a harmonious and warm decoration while offering you several supports.
On the other hand, if the decoration of your living room is modern and minimalist, a single Scandinavian coffee table will do the job perfectly. That said, opt for neutral colors and materials instead.
The material and style of your new coffee table
While rectangular tables hug and follow the contour of the sofa, round coffee tables are warmer and friendlier. Your friends and guests will immediately feel at ease around this table. In addition, for small spaces, it is the preferred shape because it is easier to move around a round or oval table. The latter are ideal for living rooms where there is a mix of armchairs.
If you prefer light furniture, the glass coffee table is ideal. It is certainly very fragile but, thanks to its transparency, it harmonizes easily with any type of decoration, whether minimalist, classic or contemporary. In addition, it is the table model to be preferred for small living rooms so as not to overload it. However, it is not recommended if you have young children. If you've remodeled your living room or bought a new rug that you want to show off, this model is perfect.
Finally, the wooden coffee table is one of the most popular because it is more robust and more resistant to the marks of time and shocks. Wood is a warm and timeless material that will allow you to add a touch of elegance to your living room. On the other hand, if you opt for this type of material, check that you do not have other elements designed in wood in your living room. If this is the case, you will have to choose a wooden coffee table so as not to mix the different species in order to maintain a harmonious decoration without multiplying the colors and materials.
And if you dare to mix styles and materials?
So far, only tables with a single material have been cited. However, they are far from the only ones available on the market. Today, industrial coffee tables attract lovers of loft style decor. These tables are made from a mix of materials, often wood and steel.
For small living rooms, we recommend a white coffee table that will give the impression of a larger space. You can play with the materials, whether they are wood or metal. For a retro decoration, a vintage coffee table is a must! The advantage is that it is available in different materials, shapes, and colors. All you have to do is choose.
A few tips for choosing your coffee table
When choosing a coffee table, you must keep several criteria in mind, including the area, decoration and style of your room. In addition to the design of the table, you must also take into consideration its size while respecting a certain distance from your furniture. For a wise choice, here are some tips:
Before choosing your coffee table, do not hesitate to make a marking on the ground to avoid making mistakes. Define the spaces and take the measurements of the ideal coffee table. Once done, all you have to do is choose the one that comes closest to it.