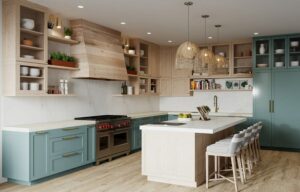 5 trending colors for kitchen cabinets in 2021
Kitchen cabinets are going to be more colorful in 2021. In the past, natural wood cabinets with darker hues dominated every kitchen, this is no longer the case.
Today, kitchen cabinetry totally embraces color and sometimes the absence of color. In 2021, it's time for boldness and the search for the perfect color. In short, choose a color, because white, gray, two-tone, blue and green cabinets are on show.
If painting your kitchen cabinets is part of your kitchen remodeling plans in 2021, then these new trends will enlighten you.
White kitchen cabinets
Why do people love white so much? Well, white is modern, sleek and it reflects light well, creating a more open space effect in the kitchen. White cabinets go well with many styles; with a high-end style for example or a rustic country kitchen style.
The trilogy of white, light and clarity has been at the heart of several home trends in recent years. White kitchen cabinets will continue to be popular for a long time.
Two Tone Kitchen Cabinets
Some will say that two-tone kitchen cabinets offer the best of both worlds, others that two-tone allows you to express your creativity, your personality!
For the colors of the lower cabinets, we can think of navy blue or emerald green. White or pale upper cabinets will create the neutrality needed for bolder colors on lower cabinets.
It is better to use white or pale for upper cabinets. Dark colors near the ceiling will make the ceiling appear lower than it actually is, especially if you already have low ceilings.
The two-tone trend is an excellent half-measure between the all-white kitchen and the audacity of blue or green cabinets.
Green kitchen cabinets
In 2021, we merge beauty and audacity. We're not talking about a bright green here, but rather tones of emerald green, forest green or even a pretty olive green that will give your kitchen a beautiful retro style.
Olive green kitchen cabinets are very trendy in vintage kitchens as they are reminiscent of the 70s. Emerald green is a very trendy color in general, it gives the kitchen a dramatic look.
Pair a shade of green with a contrasting worktop and backsplash and your kitchen will be a hit.
Blue kitchen cabinets
Most people who choose blue kitchen cabinets do not go with a primary blue, but rather a navy blue which will add a nice warmth. As contrasting design is gaining popularity in the kitchen, it should come as no surprise that blue is coming into play.
Blue offers a nice contrast to traditional white, it creates a slightly subdued atmosphere. Blue kitchen cabinets are also a good choice for those who want to create a relaxed ambiance in their kitchen.
The blue trend in the kitchen is recent! Lighter or softer blues will stand the test of time while bright blues tend to fade.
Gray kitchen cabinets
Need we remind you that gray has invaded floor coverings for a few years now.That's why dark gray grout is showing up more and more in the backsplash scene and light gray cabinetry is popping up all over the place. Gray is a great alternative for those who want a neutral color, but aren't fans of the "medical clinic" flavor of all-white kitchens.
Gray continues to be popular in interior design because it's more subtle than it looks. We can imagine a light gray based on blue, a dark gray based on red or even a pale gray, pastel. In short, you should easily find beautiful gray cabinets in 2021.
Gray is seen as a modern color and it fits subtly everywhere in the house. Gray will be on display for a few more years.
Natural wood kitchen cabinets
The raw style is up to date. If you like nature indoors, then natural wood cabinets are a natural choice.
In short, say goodbye to dark stains for wood cabinets. The emergence of butcher wood kitchen counters is there to testify to this.
The environmental trend is growing and raw wood will continue to be adopted more and more.
In a nutshell, here are trending kitchen cabinet colors in 2021 to make you a beautiful designer kitchen.